The summer of 1963 was a busy time for the Boston black community. After the Boston School Committee rejected a petition from the NAACP for a meeting, a major demonstration occurred outside their offices on July 29.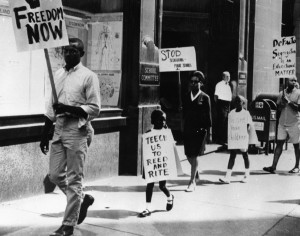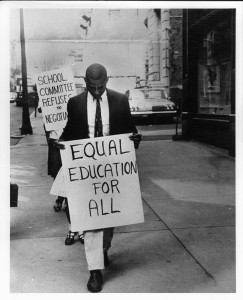 Many community members travelled together later in the summer to participate in the March on Washington for Jobs and Freedom, which took place on August 28. That event galvanized many to put all their efforts into the segregation problems they saw in BPS. On September 5, a second sit-in was held in the School Committee offices, which lasted from that Thursday morning to 1:45 in the morning on Sunday, when participants were forced out because of an alleged bomb threat. This sit-in demanded the following:
Open enrollment for school children.
Full consideration in locating new schools for maximum integration.
Consultation with education experts regarding the desegregation of de facto segregated schools.
A meeting with the NAACP Education Committee to discuss further ways and means to achieve desegregation.
The rezoning of school districts to achieve maximum integration.
A week later, the NAACP released the "Atkins Plan." The plan showed that minority students made up only about 15% of the school system's 93,000 students and called for reassigning students in just 16 schools to other schools still within their neighborhoods. The plan did not require busing, which an NAACP official described at that time as the "least satisfactory way to handle the problem." Controversially, the plan defined a segregated school as one in which minority students made up more than 50% of the enrollment, which would be a major source of contention up through court proceedings in the 1970s.
To end that eventful summer, a March on Roxbury was held on September 22, and the state of schools was a focus of chants and demands. A radio program hosted by WGBH on February 24, 1964, looks at many of these early developments from the perspectives of people in the NAACP, Freedom Stay-Out organizers, Boston School Committee members, and other stakeholders from all over Boston. A script of the whole broadcast is below.
neu_rx9140346